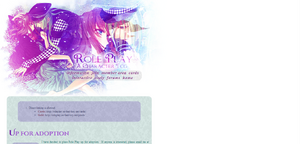 Role Play
is an anime and video game character TCG first opened by
Ayay
. The TCG went up for adoption May 1, 2013.
Site Information
Edit
Owner: Ayay
Category: Animangames
Lifetime: 2013
Current Staff
Edit
Background
Edit
Role Play was re-opened with a new template on March 24, 2013.
Ayay put Role Play up for adoption on May 1, 2013.
All decks on Role Play are worth 1 and feature characters from various anime and video games.
Old Template
Edit
Member Cards
Edit
Member cards are worth 0 and may be traded freely between members.
Old Template
Edit
Before the revamp Members created decks which were earned by doing various tasks.
Levels are based on card count and there are 20 levels total.
Level 1: 001-100
Level 2: 101-200
Level 3: 201-300
Level 4: 301-400
Level 5: 401-500
Level 6: 501-600
Level 7: 601-700
Level 8: 701-800
Level 9: 801-900
Level 10: 901-1000
Level 11: 1001-200
Level 12: 1201-400
Level 13: 1401-1600
Level 14: 1601-1800
Level 15: 1801-2000
Level 16: 2001-2200
Level 17: 2201-2400
Level 18: 2601-2800
Level 19: 2801-3000
Level 20: 3001-3300
Mastering Decks
Edit
When a player has collected all 15 cards in a deck, they obtain the mastery badge. Mastered cards cannot be traded off.
There are three kinds of currency on Role Play. The first is gold, which can be used to purchase cards at the Card Shop.
The second are coupons which earn the player additional randoms or choice cards.
The third which was eventually retired was crystals, there was one for each element.
Layout Gallery
Edit
Ad blocker interference detected!
Wikia is a free-to-use site that makes money from advertising. We have a modified experience for viewers using ad blockers

Wikia is not accessible if you've made further modifications. Remove the custom ad blocker rule(s) and the page will load as expected.