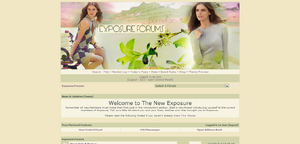 The Exposure Forums is currently the largest and most active TCG Community to date. It is where a majority of TCGs are hosted and is typically the best community to advertise a new project or reach out to the community.
Exposure Points
Edit
Forum members accumulate points for every post that they make. These points can be used for a variety of things, including the Board Wide Freebies and Features Shop.
Exposure Stamps
Edit
Board Wide Freebies
Edit
TCGs hosted on Exposure had the option of signing their TCGs up for Board Wide Freebies. Members had a variety of ways to earn cards, including:
Exposure Points
Post Count
Thread Count
Exposure Keys
Features Shop
Edit
Change Username - 10,000 points
Change Username Color - 5,000 points
Personal Photo - 5,000 points
Upload Avatar (100x100) - 1,000 points
Upload Avatar (200x200) - 2,500 points
Change Custom Status - 1,000 points
Member Shop - 1,000 points
TCGs Hosted
Edit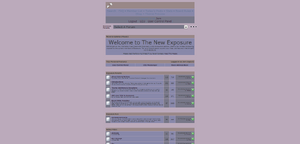 Theme Gallery
Edit
Ad blocker interference detected!
Wikia is a free-to-use site that makes money from advertising. We have a modified experience for viewers using ad blockers

Wikia is not accessible if you've made further modifications. Remove the custom ad blocker rule(s) and the page will load as expected.